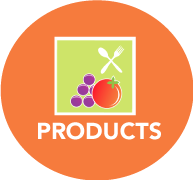 OUR PRODUCTS
"Start your baby off on a healthy, flavorful journey through life with our unique Foodie Cubes, an easy-to-use, back to basics, no frills guarantee of organic goodness for your baby's first precious tastes in life."
Foodie Cubes – Tasty, Organic Baby Food
Are you the proud parents or grandparents of a baby and are looking for a way to start your baby off on a healthy, flavorful journey through life? Check out our Foodie Cubes prepared by our USPCA accredited personal chef at your own home.
Fresh Flavors
---
We start your little one off with Fresh Flavors, ten different organic taste experiences designed for babies from 4 to 7 months. Feed one cube at a time in addition to your regular formula or breast milk and mix and match them as your baby grows. These cubes are intended to expose your child to a variety of different pure flavors. That way they will develop and strengthen their taste buds and learn to enjoy the five basic different taste categories sweet (that's the easy one), sour, salty, bitter and umami (a subtle taste that blends to expand and round out flavors). Our flavors, with some seasonal adjustments, are: carrot, parsnip, fennel, butternut squash, zucchini, rutabaga, apple, pear, potato and sweet potato.
Happy Taste Buds
---
Once you and your baby are ready to explore new flavors we are here for you with Happy Taste Buds, designed for babies from 6 to 10 months. We provide you with all the ingredients you need to put together healthy wholesome meals, in just a few minutes. Depending on your baby's appetite, simply pick three or four Foodie Cubes and warm them gently on the stove or heat them in the microwave. Our flavors, with some seasonal adjustments, are: chicken, beef, lamb, broccoli, peas, spinach, carrot, cauliflower, tomato, apple, pear, mango or peach, potato, sweet potato, whole grain rice and quinoa.
Your baby will love it ……… and so will you!
All you need is a kitchen and some freezer space and then our Personal Chef will come to your home with all the necessary equipment and our fresh organic ingredients and will prepare the Foodie Cubes right then and there in front of your own eyes. This is not only a great way for you to make sure that only the best ingredients make it onto your baby's plate but you also have the chance to be part of the process and learn how to make your own healthy, nutritious baby food.
Once the Foodie Cubes are frozen, usually the next day, our Personal Chef will come back and package and label the cubes so that all you need to do is to heat them whenever your baby is hungry. A batch of custom made Foodie Cubes should allow you to put together 20 to 25 meals depending on your baby's appetite. Please call us to learn more about this unique approach to baby food and to book your session with our Personal Chef.
Please call 678.793.3469 with any questions!